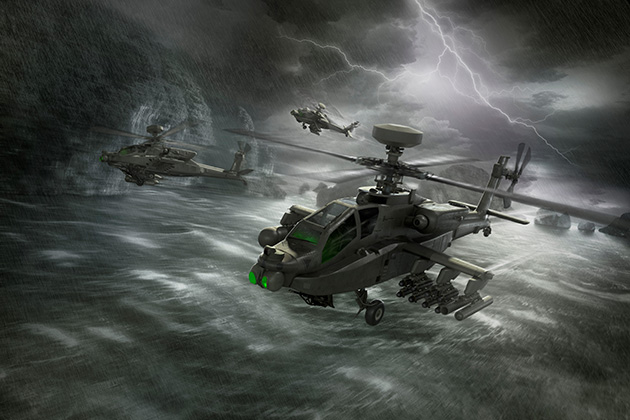 During AUSA 2022, Boeing took the opportunity to unveil its Modernized Apache concept to leaders of the U.S. Army.
For more than 35 years, the AH-64 Apache has defended freedom, kept the peace and helped ensure mission success for Soldiers in every corner of the globe — identifying and eliminating wide-ranging, dynamic threats from the battlefield and keeping our ground forces safe.
From the AH-64A in 1984 to today's AH-64E Version 6, or v6, the Apache has grown in leaps and bounds — time and again exceeding expectations and redefining the capabilities of the platform. The Apache has proven to be an extremely lethal Attack helicopter platform as well as a very powerful and effective Reconnaissance platform.
Continuous modernization has yielded unprecedented advances in lethality, survivability and network connectivity to deliver sustained dominance on an increasingly complex, multi-domain battlefield.
Simply put, since the first AH-64 took flight, no other helicopter in the world has been able to match its unique mix of versatility and operationally-proven, mature, low-risk and affordable capabilities — the Apache is still the most dominant and advanced multi-mission helicopter in the world.
Modernizing future fight
Current Army plans call for the Apache to remain operational and an integral part of the service's aviation forces for decades.
At Boeing, we understand that for the Army to maintain rotorcraft dominance in future Multi-Domain Operations (MDO), the Apache needs to be optimized to complement the next-generation platforms in the Future Vertical Lift (FVL) ecosystem. Moreover, we believe that it's incumbent on all of us in the industry to keep bringing forward the best ideas and innovative solutions to meet the emerging and future needs of our Soldiers with speed and affordability.
And so, Boeing is proud and excited to introduce the Modernized Apache — a dominant, affordable concept built on the combat-proven Apache platform that represents the next evolution of the current AH-64E v6.
The Modernized Apache concept is capable of seamlessly and effectively meeting the Army's evolving attack and reconnaissance requirements — including increased agility, interoperability, lethality, survivability and reach.
It also leverages, protects and preserves the established, worldwide industrial base already mature and in place to support future Apache engineering, manufacturing, development and production.
Operating, fighting and winning on the future battlefield
To ensure that the Army can operate, fight and win on the future MDO battlefield, the Modernized Apache will embrace and integrate cutting-edge technology to keep delivering the options and tools needed to support Soldiers on the ground.
The following six modernization elements provide the framework for the Apache's evolution into the Modernized concept and offer the blueprint for continued dominance:
Drivetrain upgrades to unlock Improved Turbine Engine (ITE) capabilities for enhanced power, range, efficiency and speed;
A Modular Open Systems Approach (MOSA) for maximum interoperability, and faster integration and fielding of advanced capabilities;
Advanced mission systems to increase interoperability to the network and to reduce pilot cognitive strain and workload during operations;
Advanced sensors and sensor fusion for better and more resilient connectivity across domains and operations in all environmental conditions;
Airborne long-range precision munitions, Air Launched Effects (ALE) and potential future directed energy weapon system integration for increased lethality; and
Advanced sustainment through a more capable and lower life cycle cost airframe, as well as affordable remanufacture and minimized procurement costs.
Accelerating the digital revolution
While aviation's first century was largely defined by the astonishing array of new products and capabilities, we know that its second century will be defined not only by the "what" we build but also by innovations in "how" we design, build, deliver and maintain our products and services.
The Modernized Apache, like all Boeing Defense, Space & Security products, will be digitally advanced, simply and efficiently produced and intelligently supported — leveraging our company's 30-plus years of experience in digital engineering to offer an industry-leading, end-to-end digital lifecycle that will enable unprecedented speed and agility.
That's how we'll deliver critical solutions at the speed necessary to ensure future readiness and rapidly eliminate operational gaps in an MDO environment where threats are constantly evolving. Our top priority is delivering unmatched capabilities and cost- and time-savings to Soldiers and taxpayers.
Source: Boeing